EcoHealth-St. Louis is a long-term, restorative action project that joins the city and the surrounding region through science-based restoration and public health initiatives. A local effort of a global network, EcoHealth-St. Louis will inform and support the BiomeSTL regional biodiversity vision and atlas – a living resource intended to help city and county decision-makers and citizens across the St. Louis metro area understand, value, steward, and sustain local lands and waters. This regional project of the EcoHealth Network will complement and expand on the efforts of a number of institutions and organizations in the region already engaged with soil health, public health, and restoration activities, including, for example, the BiodiverseCitySTL Network, a network of over 100 organizations who share a stake in increasing and promoting biodiversity in the region.
We will introduce EcoHealth-St. Louis and launch its work at a public event on May 13, 2019 at the Missouri Botanical Garden. The mayor of St. Louis, Lyda Krewson, the President of the Missouri Botanical Garden, Peter Wyse Jackson, and several other speakers will join us.
---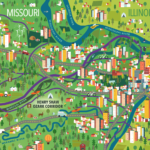 Envisioning the St. Louis city-region with restorative culture 2045
This illustrative document demonstrates the future of St. Louis with sprawl and fragmentation versus the positive impact of restorative culture, through planning and conservation efforts.
---